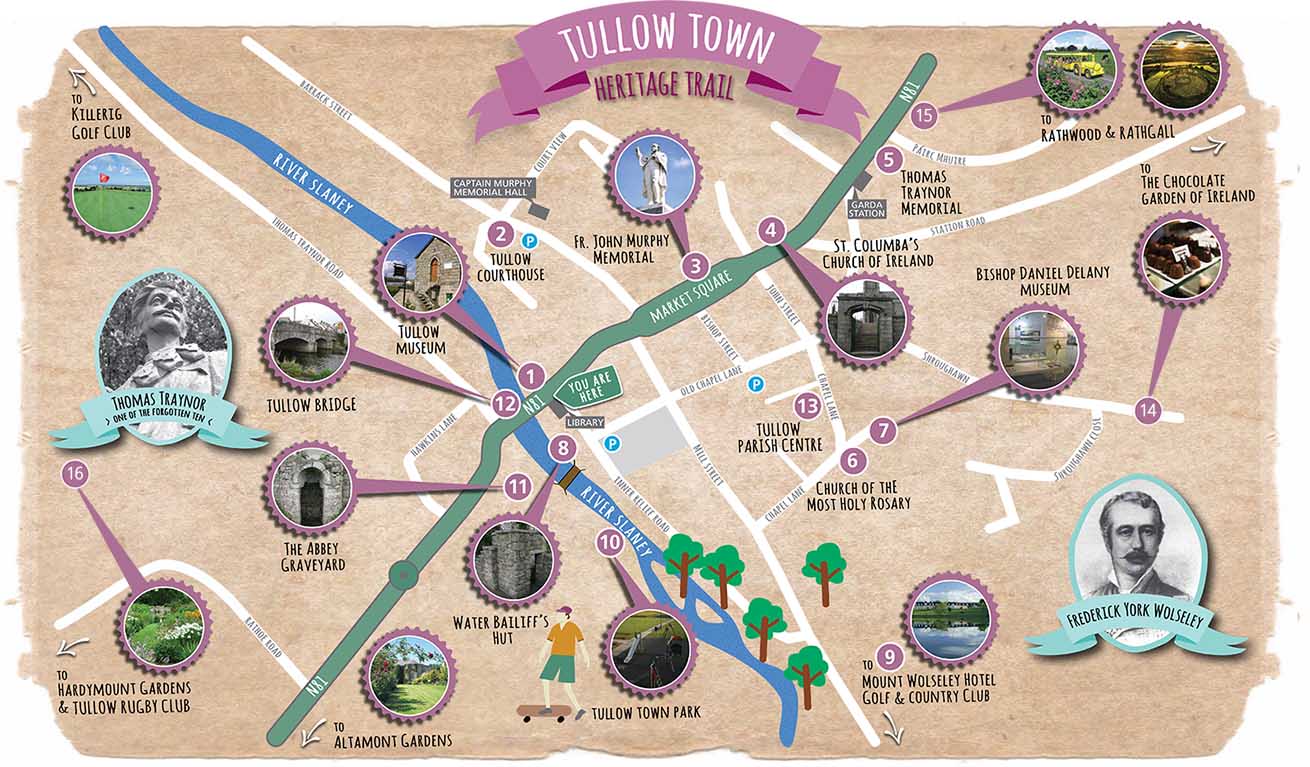 1
Tullow Museum
Tullow Museum features a collection of artefacts reflecting local history. Pride of place is given to the vestments of Fr. John Murphy of Boolavogue and the 1798 Rebellion.
2
Tullow Courthouse
Tullow Courthouse, a late Georgian structure was built circa 1825. Inside there is a double-height courtroom with a large swept-arched window with multiple panes and an upper floor gallery on one side.
3
Fr John Murphy
Fr. John Murphy of Boolavogue (1753–1798) was an Irish priest and one of the best known of the 1798 leaders.
4
St. Columba's Church
The original St. Columba's Church dated back to the 1530s and was built on the site of a Norman castle dating to the early 1200s.
5
Thomas Traynor Memorial
Thomas Traynor, born just outside Tullow on 27th May 1881, took part in the 1916 Rising. On 14th March 1921, he was captured and after a brief trial was hanged in Mountjoy Prison.
6
Catholic Church of the Most Holy Rosary
This church was built by Bishop Daniel Delaney in 1805 and the fine tower and spire were added in 1833.
7
Bishop Daniel Delany Museum
The main focus of the museum is a display of artefact relating to Bishop Daniel Delany and the work of the Brigidine Sisters and the Patrician Brothers.
8
Water Bailiff's Hut
A water bailiff was a law enforcement officer responsible for the policing of bodies of water such as the River Slaney.
9
Mount Wolseley
Mount Wolseley is the ancestral home of the brothers Viscount Wolseley, one of Britain's most important military leaders and Frederick York Wolseley, who gave his family name to the Wolseley car.
10
Tullow Town Park
Tullow Town Park features a children's play area, outdoor exercise equipment and a state of the art skateboard park. There are plenty of comfortable park benches with loads of room for children to run freely.
11
The Abbey Graveyard
The Abbey Graveyard is located on the site of a former 14th century Augustinian Friary.
12
Tullow Bridge
References to a bridge at Tullow can be found in a 17th-century publication by Thomas Dineley, who visited Ireland in 1680.
13
Tullow Parish
Home to the Tullow Parish centre. Lots of great family friendly activities take place here. Ballet, dancing and kids fun.
14
The Chocolate Garden of Ireland
Irelands finest handmade chocolates. Guided tours and chocolate-making classes. yummy…
15
Rathwood Garden Centre
Home to the famous Santa Train. Great atmosphere, great food and plenty to do. Relax on the patio area over a cuppa while the kids have a play in the playground.
16
Hardymount Gardens
Stunning at this time of the year. Bring a picnic and take it all in.
About DTA
Develop Tullow Association Limited (DTA) is a community-based development organisation open to all citizens (young and old) of Tullow, Co. Carlow