Tullow Tidy Towns & Climate Change Committee
Tullow Tidy Towns Committee was formed in early 1996 when members of Tullow Parish Council Environmental Group amalgamated with the DTA Tidy Towns Group. Early members of the Committee consisted of Eileen McNabb, Mary Walsh, Pat O'Toole, June Heron, Donnie Studdert, Monica McCormack, Tommy Orbinski and many others.
Tullow has entered into 22 National Tidy Towns competitions from 1996 to 2019 (excluding the years 2006 and 2019) while the competition was cancelled in 2020 due to the COVID-19 Pandemic. In 1996 Tullow scored 195 marks rising to a whopping 315 marks in the 2018 competition.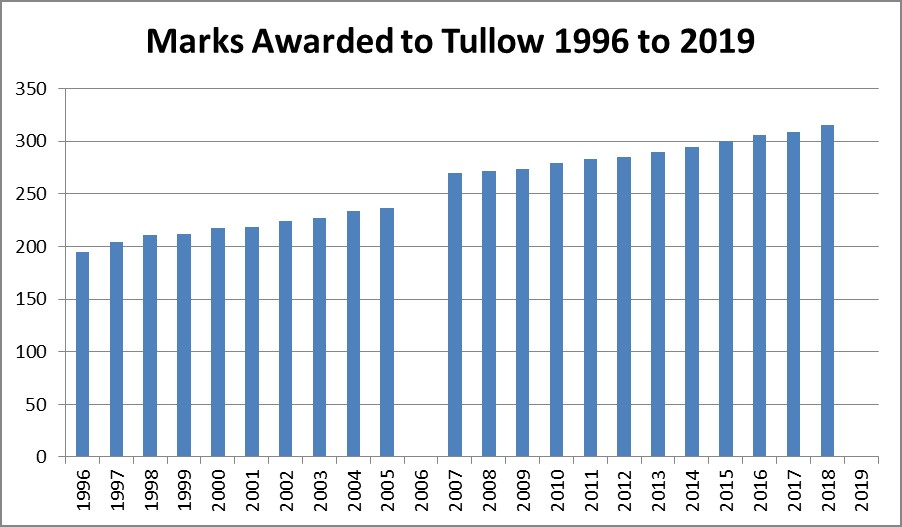 Tullow Tidy Towns Committee has been assisted down the years with workers from the FAS Community Employment Scheme, TUS Scheme, the Rural Social Scheme and by Carlow County Council outdoor staff, especially Brendan Dowling. Of course we could never forget our wonderful volunteers who work all year round to plant and clean flower beds and shrubberies, water the floral displays, paint fences and clear overgrowth.
The Tidy Towns Committee has completed a number of important projects over the past 24 years including commissioning:
Granite retaining walls on The Fair Green, Ouragh Road, Hillbrook, Church Grotto, Tullow Fire Station and Thomas Traynor Road
Rainwater Harvesting Project at Tullow Parish Centre
The Grass Roots Project at Tullow Town Park
Tullow Interactive Tourist Map
Tullow Heritage Plaques
Tullow Business Paint Scheme
Specimen Lime trees on the Market Square