Calling all businesses in Tullow.
Have you applied for your business re-start grant which can give you grant aid to help with the costs associated with re-opening and re-employing workers following COVID-19 closures?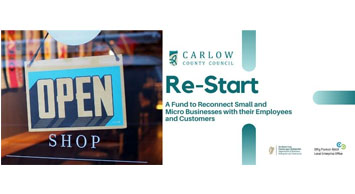 You can qualify for a re-start grant if you meeting the following conditions:
Your business must have a pre-VAT turnover of less than €5 million and have less than 50 employees.
Your business suffered a loss of 25%+ in revenue (sales) from 1st April to 30th June 2020.
Your business must commit to remain open or to re-open if it was closed.
Your business must declare the intention to retain employees that are benefitting from the Temporary Wage Subsidy Scheme.
You will retain supporting documentation as spot-checks may be carried out.
For qualifying businesses, the grant will equal your 2019 Commercial Rates bill, subject to a minimum grant of €2,000 and a maximum grant of €10,000.
You will need a copy of your bank statement for the IBAN number and a copy of your 2019 Commercial Rates bill to complete the simple application form online.
For more details and an application form use the following link:
 http://www.carlow.ie/business-re-start-application-form/
Closing date 31st August 2020.